August 1, 2023

Smith Douglas Homes Acquires Devon Street Homes, Enters Houston, TX Market

Smith Douglas Homes Acquires Devon Street Homes, Enters Houston, TX Market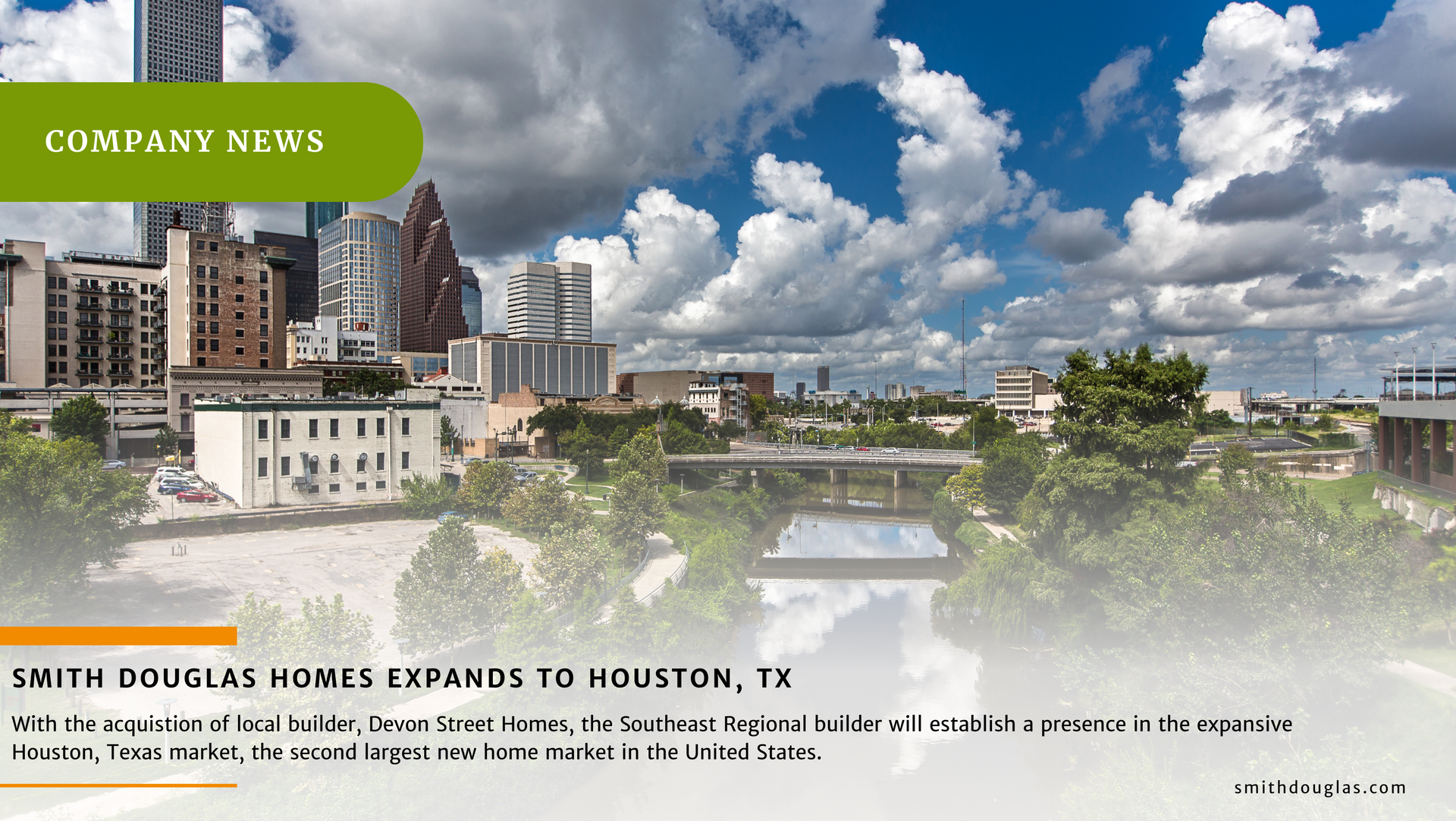 FOR IMMEDIATE RELEASE -- July 31, 2023: Smith Douglas Homes announced today that it has acquired the assets of Houston, TX based Devon Street Homes. This marks Smith Douglas' initial entry into Texas as they establish a presence in the expansive Houston market, the second largest new home market in the United States.
A top 30 builder in the local market and ranked the 150th largest builder in the country by Builder magazine, Devon Street Homes was founded in 2006 to provide Houston area families with quality homes at an affordable price. In 2022, Devon Street closed 324 homes across 15 communities with revenues in excess of $100 million and currently controls nearly 1,500 lots in the greater Houston area. "After growing this company to its current size, I felt a like-minded, multi-market partner such as Smith Douglas Homes could carry on my mission by serving even more Houston families while providing the loyal team of Devon Street Homes associates with even greater future career opportunities," said Stephen Ray, Founder and President of Devon Street. Mr. Ray will continue to lead the Houston division and all Devon Street associates have been offered positions with Smith Douglas.
"Devon Street Homes offers an ideal strategic and cultural fit within our existing platform, and we're thrilled that Stephen was looking to partner with another builder at a time when we were looking to expand," added Greg Bennett, President and CEO of Smith Douglas Homes. "This acquisition provides us with a great foundation from which we'll look opportunistically at other Texas markets." New communities will be introduced under the Smith Douglas Homes brand while existing Devon Street Homes communities will be rebranded over time.
Whelan Advisory acted as the exclusive financial advisor to Devon Street Homes.
Learn more about the new communities in Houston, TX on our website here.
About Smith Douglas Homes
Based in Woodstock, Georgia, Smith Douglas Homes is one of the largest privately held homebuilders in the Southeast. Since its inception, the company has been entrusted by over 12,000 families to fulfill their new home dreams. The company has been ranked a top 50 builder nationally for several years and with 2,200 closings in 2022, currently holds the #38 position. Widely recognized for its operational efficiency, Smith Douglas delivers a high quality, value-oriented home along with unprecedented choice. They focus on buyers looking to purchase a new home priced below the FHA loan limit in the metro areas of Atlanta, Raleigh, Charlotte, Nashville, Birmingham, Huntsville and now Houston.
Ready to Get Started
We're Here to Help